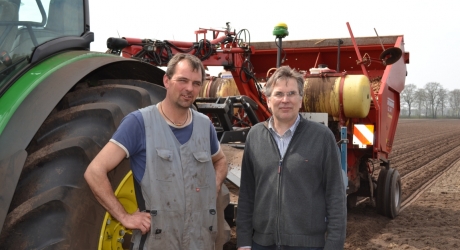 "After about 3 weeks the crop did not look the same anymore, the plants were hit hard but de yield was above average at the end of the day. This was the turning point where I decided to continue using Crop Fuel® in the future"
Close to the German border in Sellingen (The Netherlands) is a farm owned by the Jansema family. The crops grown on this farm are potatoes, sugarbeets and cereals.
For the past 4 years, Jansema has been using Crop Fuel® on his potatoes and this coming season is also ging to spray Crop Fuel® on his winterwheat. "This year I will add 5 L/ha of Crop Fuel® to the Amistar at planting. I started doing this last year on a small scale and was very satisfied with the results" according to Jansema.
The potato varieties Jansema is planting are Seresta, Aventra, Festien and Aveka which are all starch varieties typical for this area. Jansema is using a GPS guided potato planter and tractor for the first time this year.
According to Jansema: "My first experience with Crop Fuel® was in 2009. I had a 3 ha field of Seresta starch potatoes. This crop was not doing well at all due to the stressful weather conditions and the high virus content. My fertilizer dealer and crop consultant Johan Schuitema, adviced me to spray this potato crop 5 times with 2.5 L/ha Crop Fuel® and a couple of liters of liquid nitrogen. "After about 3 weeks the crop did not look the same anymore, the plants were hit hard but de yield was above average at the end of the day. This was the turning point where I decided to continue using Crop Fuel® in the future"